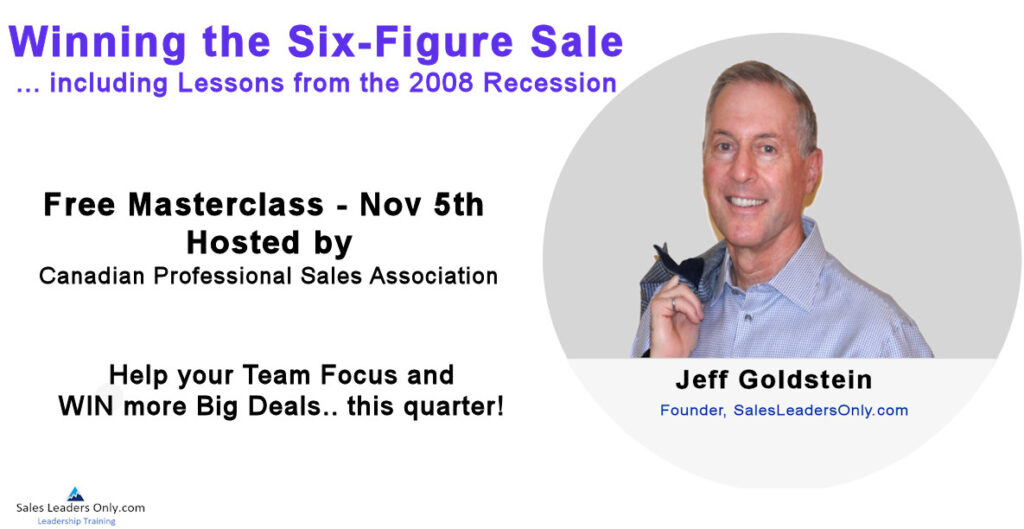 Competition for new business has never been more intense, especially in these days of COVID-19.
Despite lots of traditional sales training, most Sales Leaders have no plan or process to Inspect, Access and Coach their team's "Must Win" sales campaigns.
Join Jeff Goldstein, Founder of Sales LeadersOnly.com – a 25-year sales executive in the Canadian high-tech industry as he challenges Sales Leaders to Think Differently about how they help their teams Win more Big Deals… Faster.
Jeff will discuss the Top 6 Questions Sales leaders should be asking Right Now to Inspect, Assess and Coach their team's Big Deals including Lessons learned from the 2008 Recession.
The webinar content is taken from Jeff's sales course and upcoming book "WINNING THE SIX-FIGURE SALE".
Who's the Webinar for:
First-Line Sales Leaders looking for an Intentional and Deliberate process to Assess, Inspect and Coach their team's Six (or Seven) Figure Sales Campaigns.
Second-Line Sales Leaders, VPs and GMs looking to quickly qualify if large Sales Opportunities will close when forecasted. 
Experienced sales reps looking for new insights and to sharpen the saw around their Big Deal sales skills.
Sales Leaders will learn:
6 Powerful Questions they should be asking to help Inspect, Assess and Coach their team's "Must Win" Sales Campaigns.
How to develop an Intentional Big Deal Inspection Cadence.
How to identify the Top 10 Steps and Stakeholders in a complex sales campaign.
How to help sales teams Ruthlessly Qualify their Big Deals so they don't waste time and resources on Big Deals they can't win.
How to find the time to Inspect, Assess, Coach and keep score.
How  to leverage lessons learned from the 2008 Recession.
Learn more and REGISTER at https://www.cpsa.com/events/2020/11/05/event/cpsa-webinar-winning-the-six-figure-sale