How are you Ensuring Customer Success… BEFORE you get your PO?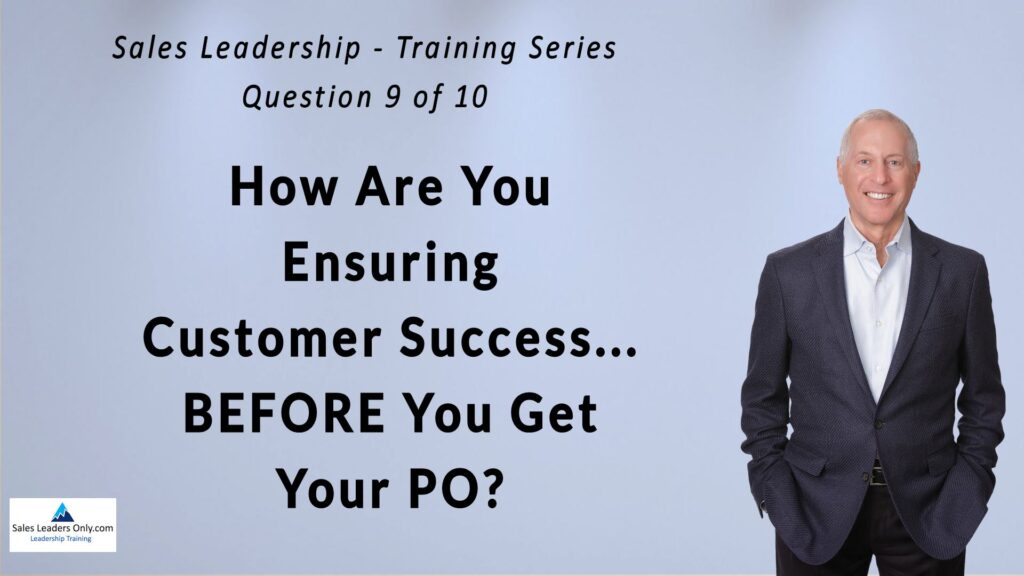 This week's post is all about your Customer's Success.
But just before I go there, let me share three words that have had a pretty profound effect on my sales career over the past 30+ years.
The three words are Sell, Install, Support!
Let me explain

Way back when I started my career as a co-op engineering student working for IBM, I had the opportunity to sit in on some training IBM was doing for their large account sales teams around guess what.
CUSTOMER SUCCESS

Yes, long before there were fancy titles for it, IBM taught their sales teams how to help ensure their customer's success with IBM products.
The training message seemed so simple, and at the time, I didn't understand how impactful it would be on me and how it would shape and inform how I think about customers and selling.
The instructor posed this simple question.
How will you ensure your Customer's Success?
Her answer was dead simple
Before you take the customer's money, she said, make sure you do these three things.
SELL them the right solution.


Make sure you have a plan to INSTALL and implement it correctly.


And then ensure you've sold the right Support level and
Services to keep the solution working.
Have a plan to Sell, install, and Support your solution before taking their money.
Sounds so simple, right, but I can't tell you how many conversations I've had with sales teams who are so focused on winning the initial deal, they haven't paid much attention to the services that will be required to install and support what their selling.
And if I wanted to double click to make sure the rep understood where I was coming from, I'd ask one more question.
What Risks could cause the customer's project to fail?

Deferring to their technical specialist or reseller was never the correct answer.
Before you take your PO, make sure you've thought through how to Sell, Install and Support your customer.
Those three words will go a long way toward ensuring your Customer's Success and YOUR ability to sell that customer again in the future.
Great selling
– Jeff 

PS. Interested in winning more Big Deals? Here are the next steps…

For more ideas about how you can help your team win big, read my new book Winning the Six-Figure Sale: A Sales Leaders Guide to WIN More Big Deals With my Proven 3-Step System.