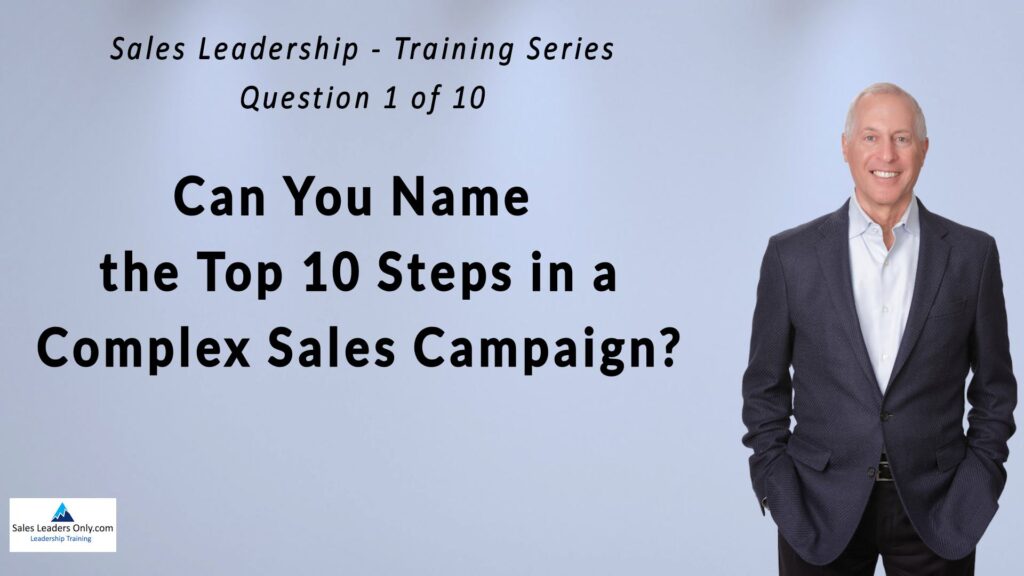 Go ahead, I'll wait. Name 10:-)
OK, when pressed, most sales leaders and their reps can name 5 or 6 steps off the top of their head.
And since 95% of all sales teams don't have a written plan to win their big deals, it's really easy to miss important steps or stakeholders in their complex sales campaigns.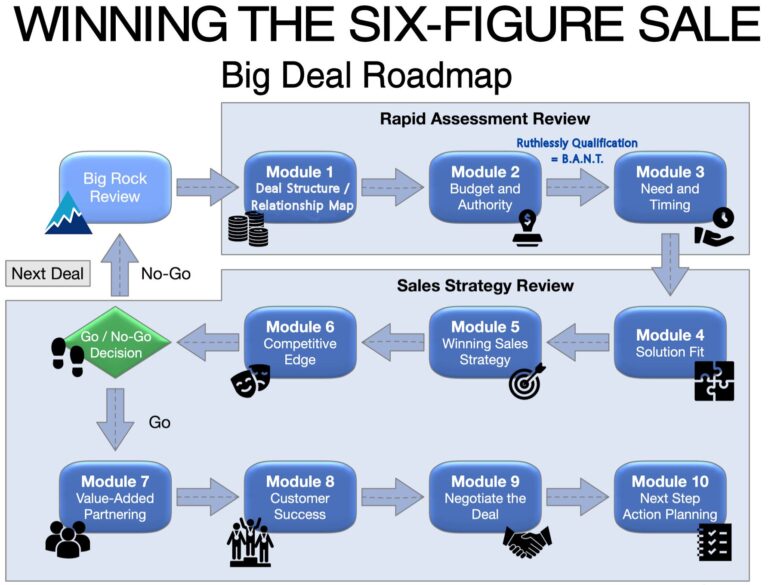 Here are the Top 10 Steps in a complex sales campaign every rep needs to cover to ensure they don't miss anything that could sink their deal.
Step 1 – Deal Structure and Economics: Big deals often require big discounts or low  gross margins. Getting your deal approved internally is something that needs your early attention.
Step 2 – Relationship Mapping: More specific than an org chart, you need to build a Relationship Map that helps you identify all the key players in the power base you will need to meet and influence.
Step 3 – Follow the Money: To ruthlessly qualify your deal, you'll need to think about Budget, Authority, Need (or business outcome), and Timing. Think BANT.

Step 4 – Solution Fit: Do you have a solution to the customer's problem, and do you understand what Business Outcomes the customer is expecting from your solution?
Step 5 – Winning Sales Strategy: What is your strategy to win, other than low price? What's your primary competitors' strategy to beat you?
Step 6 – Gaining a Competitive Edge: How are you currently perceived in the account AND how will you develop a competitive advantage to win?
Step 7 – Value-Added Partnering: Have you got a partnering strategy that adds value to you and the customer, and have you set clear, written expectations with your partner?
Step 8 – Customer Success: What are you doing to ensure customer success BEFORE you get your PO?
Step 9 – Negotiating the Deal: What's your negotiating strategy, and do you understand how the customer plans to negotiate with you?
Step 10 – Next Step Action Planning: How are you keeping track of all the next steps in your campaign, and what are you doing to hold yourself and your team accountable for execution?
Wow, as you can see, there are a lot of moving parts in a Complex Sales Campaign. Missing one step could put your deal at risk. Miss two and your deal could be dead.
In my new book and sales leadership course "Winning the Six-Figure Sale," I cover each step of the big deal roadmap in more detail and give you 35 powerful questions to coach your sales team to help them win more Big Deals.
Great Selling
– Jeff
PS. Interested in winning more Big Deals? Here are the next steps…

For more ideas about how you can help your team win big, read my new book Winning the Six-Figure Sale: A Sales Leaders Guide to WIN More Big Deals With my Proven 3-Step System.